The golf journey is unique to each player. There is that first moment where you learn to properly hold a club and the grip feels awkward. Then, with deliberate practice, the swing becomes second nature. Along the way, you had some great shots that got you hooked on the sport. Now you're in love with the game. This post shares how I found happiness and focus on the course.
For many players, it's easy to get stuck in your game. You face an inner battle, knowing that you need to change in order to play better but you can't put your finger on it. Or, you war against knowing what needs to change in order to play better, only you can't actually internalize those changes. Either way, frustration can result.
Instead of having fun when you're out on the course, you second-guess yourself. You get distracted or your plateau in performance has you playing fewer rounds with your friends. Maybe you give up the game entirely for a while.
In this post, I want to share with you the humble beginnings of my golf journey. Perhaps unlike you, I consider myself a yogi first, golfer second. This deep understanding of the body—combined with a passion for yoga—is why I created the Flexible Golfer in the first place. 
I thrive on teaching others to integrate yoga principles in their life so they can live healthier and break through barriers.
This leads to greater energy, balance, focus, and coordination—both on and off of the course. And while I never expect your love of golf to be replaced with one of yoga, I do know yoga cross-training can greatly improve how you play, the fun you have when doing so, and the number of years you can do so safely.
THE BEGINNING OF MY GOLF JOURNEY
In my mid-twenties, I married my soul mate. He was everything I wanted in a partner; funny, smart, compassionate, adventuresome, and handsome. We fit together seamlessly in so many ways that our relationship started out effortless (and continues to flow just as smoothly 12 years later).
Despite our numerous similarities, there were two big areas in which we differed.
1. I'm an athletic sports-lover with a gift for picking movement up quickly. Steve, on the other hand, is notorious for crashing, falling, and getting injured when doing activities. The fact that he endured a horrific motorcycle accident years ago only further limited his abilities.
2. We have a large age gap between us, and with him being much older than me, our cultural points of reference aren't the same.
In order to give us an activity to enjoy together in life, Steve suggested we play golf. He played casually when he was younger and liked the game. He also knew I've got an intensely competitive side and would geek out on the nuances of the sport. As an added bonus, we travel frequently and could play all around the world.
So, that settled it. The activity we would pursue as a couple would be golf.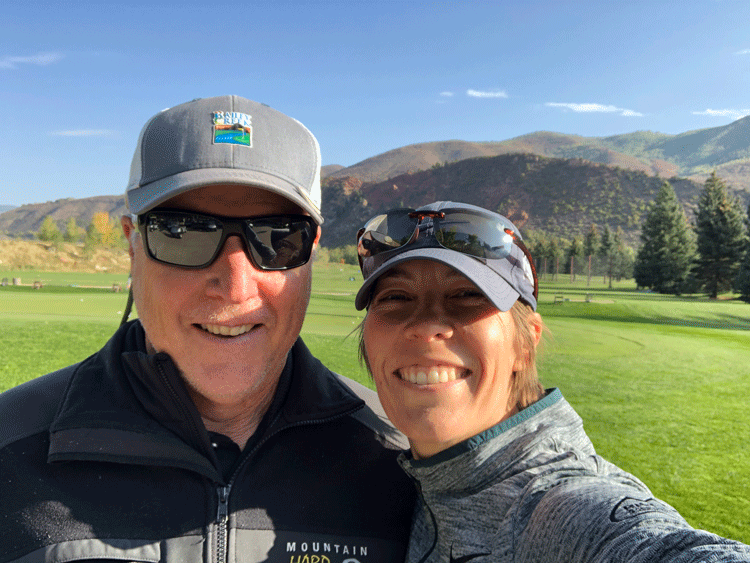 As I often do, I jump into new endeavors with both feet. I'm all in and ready to give it my best. I bought a lovely used set of golf clubs on Craigslist that week. Then, we booked a tee time at a nearby 9-hole course.

Being the more "experienced" player, Steve took me to the range first to show me the basics. If you've ever tried to teach a significant other a sport, you might be laughing right about now.
When it was my turn to hit, Steve was stunned. I was able to strike the ball hard (and with great accuracy for a newbie).
Time on the range didn't last long because we were called up to the first tee-box shortly thereafter. Steve teed up first. He walked with a bit of swagger, giving me more tips as he got ready to drive the ball. And smack! He hit the fairway dead center. Nice shot, hubby!
I was up next. I followed his lead, set myself up, and gave it my best swing. My stance looked far more like a softball player up to bat. This didn't matter, though, because my eye-hand coordination was spot-on. In fact, I hit the ball so well that I also landed dead center fairway. My ball landed 6" closer to the pin than Steve's!!
He couldn't believe it!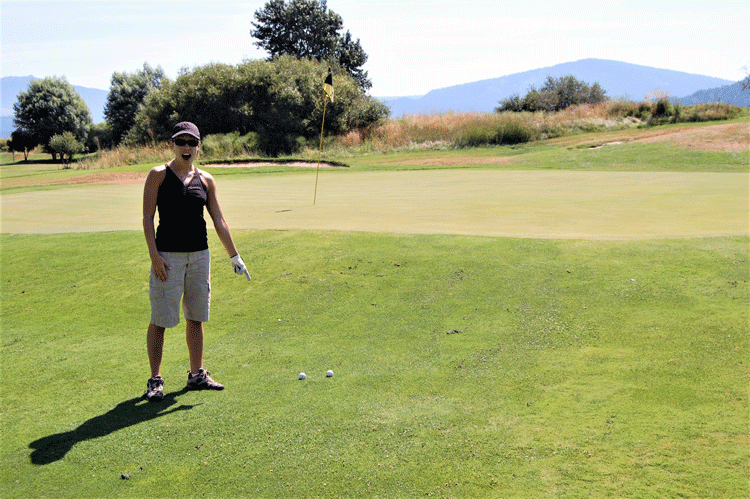 THE REAL BEGINNING OF MY GOLF JOURNEY
Since Steve and I were dating at the time of that first golf outing, I wanted him to feel like the leader. He was so excited to show me something new. He was the one eager to get me on board with golf.
Yet, I forgot to mention that I really did have some prior experience with golf.
In college, I studied sports Kinesiology. This is basically a deep study of the body and how it moves. That being said, many of my required classes were interactive ones. This meant I took swimming, dance, and tennis for credit. And during my first year in school, I took a semester of golf.
Well, technically I only attended the class for three weeks because I unfortunately broke my collarbone playing ultimate frisbee. This meant I had some prior instruction and theory in golf. Plus, I had supervision as I took my first swings so many years ago.
Yet, once my upper body healed, I went back to more active sports like volleyball and waterskiing. It was about that same time that I found the practice of yoga.
YOGA: A SIDESTEP IN MY GOLF JOURNEY
You might think that because I studied Kinesiology in school, I was totally healthy. True, I was very fit and strong. Yet t emotionally a wreck. I was devastated by a recent break-up with my boyfriend of 4 years. I was working two jobs to pay my way through school. And despite my high caliber grades, I was unsure of what to do post-graduation.
Thankfully my friend, Tamara, introduced me to yoga at this time.
Yoga taught me discipline. It made my body lean and flexible. Plus it focused my mind in ways I had never experienced previously. Perhaps the best skill it taught me was to keep an inner sense of calm in challenging situations.
I don't recall a specific catalyst that returned our attention to golf. However, there is one thing I knew for sure at the time:
If I was going to really take up the game, I wanted to get a coach.
The swing is tough enough as it is, and I wanted to do it safely. Really, I wanted to be good from the get-go. Why waste time with poor mechanics, only making the game more challenging. Start right. Practice to get better. Continue to improve for the rest of my days playing.
So from that first-day committed to golf, I had a coach. She taught me fundamentals and sport etiquette. Plus she welcomed me into a community of golfers so I felt confident getting started on the course, too.
This time I was hooked. There was no turning back.
I could play well (for a beginner) nd I liked it.
I met wonderful people.
The beauty of golf courses and the surrounding nature left me feeling like I just had a 4 hour vacation during each round.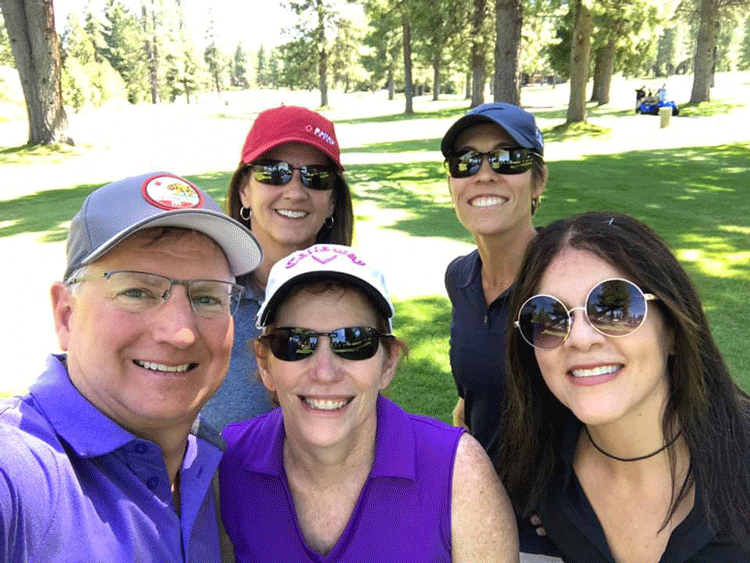 AN EAGLE LANDS UNEXPECTEDLY ON MY JOURNEY
Ongoing learning is always important to me. This is true in golf, yoga, and all areas of life in which I want to excel. So in 2018, I signed up for the next certification level as a yoga teacher. This required a 3 week intensive course
For 12 hours each day, my focus was on yoga. Breathing. Focusing. Teaching others. Returning to basics. Loving the time on my mat and the time alone to explore myself and my future.
About two weeks into the program, I needed a break. What better way to clear the mind than a round of golf. I booked an early tee time on the Monterey peninsula in CA, grabbed a cup of coffee, and headed south in the dense fog to play.
I can still taste the salty air as I unloaded my clubs that morning.
My only companion for the round was a vibrant man about my same age. He was positive and intelligent. And we both walked the course, which made for a nice opportunity to get to know one another. …. he put my usual first-time-playing-with-new-people nerves at ease.
At hole 5, I hit an amazing drive that landed perfectly in the fairway, 103 yards from the pin. The green lay behind this small hill… and I could just see the top of the flag when standing back behind my ball. With iron in hand, I stepped up to strike. Boom! The swing felt great. My line was right where I aimed. I knew the ball would land close to the pin based on the ball flight.
Soon I heard cheering from the elevated tee of hole 6. A group of four older men hooped and hollered for me as I approached the green. My ball had rolled into the cup. My first eagle was witnessed by 5 strangers—my playing partner included—but not me.
I didn't care, though. My smile was ear to ear. I was proud of myself. Proud of the work I'd done to be a solid golfer and more excited that there are times that training pays off.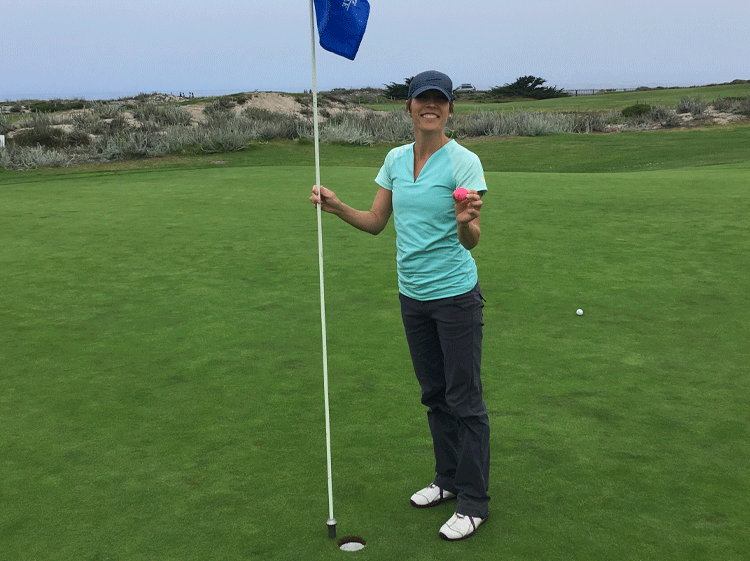 Little did I know yoga would form an incredible foundation for my golf game.
Moving my body in functional ways on the mat set me up to connect my legs, hips, torso and shoulders into a coordinated golf swing. My increased attention allowed me to mentally stay in the game well into the back nine holes. I also had a way to return my nervous system back into balance, to recover after each round of golf, with the more restorative aspects of the practice.
Yoga was the one activity that remained constant in the first years of our marriage. Despite the fact that Steve and I talked about playing golf together (and we ventured out to that local course to give it a try), life happened.
We were both traveling a lot for work at the time. We signed a book deal and spent a year getting that to market (and many years after promoting it as well). Needless to say, golf took the back burner in our life. It wasn't until a few years later that we would return to the sport together.
Today, I share yoga-based methods for improving your golf game in many ways. I share articles like this one here on the blog. I give short presentations to golf clubs and local leagues. My online course teaches yoga cross-training basics to players worldwide. And, I meet with those very same golfers monthly in Swagtail's virtual studio.
Take Action Now:
Check out any of the above resources for more information on how yoga can be a fantastic cross-training tool to improve your golf game.
If this is your first time to our site, get started here.